March 8, 2021
MyUW is now available as a free mobile app for Apple and Android devices
You rely on MyUW to navigate life all things UW. Now MyUW is making its debut as a new app on iPhones and Androids, keeping you connected to the resources you need every day without having to sign in daily with your UW NetID.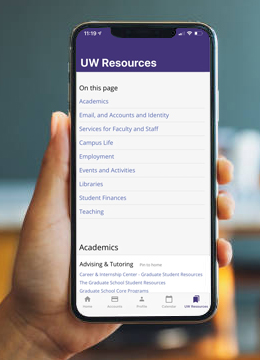 The MyUW app gives you access to all the content and information you've come to rely upon, now with a look-and-feel experience tailored for you. Features include:
Visual course calendar
Profile
Campus resources
Husky Experience Toolkit
Specialized content for international students & applicants
Personalized Quick Links
Registering for courses
Course resources for instructors
If you are new to MyUW or would like to learn more, please view the following quick links:
If you have any comments or questions, please contact MyUW via help@uw.edu.
---